Words by Ashley Harrell, Photos by Jeff Grossman and Janine Kahn
If you happened to be crossing the Golden Gate Bridge between 11:30 a.m. and noon today, we hope you took the time to look down. Sailing beneath was the Princess Taiping, a 54-foot replica of a Ming Dynasty (1368-1644) war ship.
Composed of just wood and nails and with no built-in engine, the junk blew into Northern California from China last week after a Kon-Tikiesque 69-day journey, and landed yesterday in San Francisco.
In about two weeks, the Princess Taiping will set off back toward China in an effort to become the first known vessel of its kind to make a GPS-guided, transpacific round trip.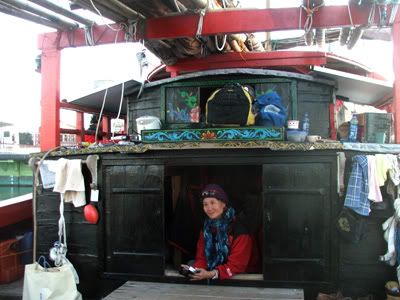 "We built the boat and sailed it to prove it could be done," said barefooted skipper Liu Ning Sheng. Ning Sheng says the journey might lend some credence to a controversial theory that the Chinese arrived in America about 70 years before Christopher Columbus.
The trip also has another purpose, he says. Weather-permitting, stops were scheduled in Hong Kong, Vancouver, Seattle, Eureka, Long Beach, Hawaii, Japan and Taiwan as part of a cultural exchange. And with crew members hailing from Taiwan, Hong Kong and mainland China –- far-flung regions of a vast nation that, to put it mildly, haven't always seen eye to eye –- the journey been has a cultural experiment of its own, says Ning Sheng. In extremely tight sleeping quarters, on the open sea the crew must rotate their head-to-foot sleeping shifts. "We are closer than husband and wife," Ning Sheng said with a chuckle.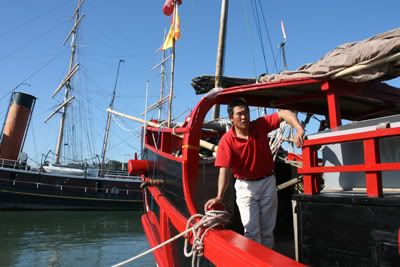 But when asked about the biggest challenge of a salt water-logged journey, on which tropical storms forced the crew to bypass Vancouver and Seattle, Sheng cited the cultural differences in the crew members, but didn't give any specifics. If there's conflict on the ship, a visitor would never know it. Those who can find the ancient-looking gem, unfortunately docked in a remote spot at the end of the Hyde Street Pier, are greeted by the eight smiling crew members and offered Chinese herbal tea.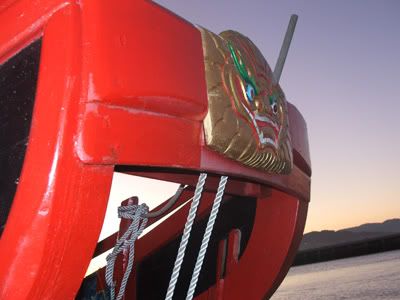 "We come in peace!" says ship spokeswoman Angela Chao, gesturing toward a few red and white painted panels on the side of the ship. Those panels apparently cover slots that would have carried weaponry in the 15th century. On the front of the boat, a traditional wide-set pair of carved, painted eyes glance into the distance. "They look toward the future," Chao says.