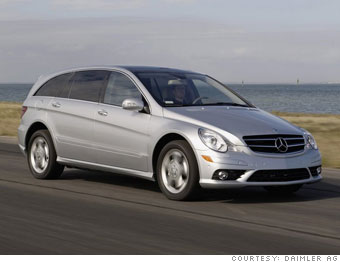 2006 Mercedes-Benz R-class
6-month value drop: $9,950*
Average value now: $22,250*
Mileage: 22 mpg Hwy, 16 mpg City
It's no secret that used SUV prices have been collapsing as gas prices have shot up. But now prices are dropping for used crossover SUVs, which get better mileage, but are still thirstier than cars.
Some of these crossovers - SUV-like vehicles with smaller engines and car-like engineering - have been on the market long enough so that redesigned versions are out. That also means big discounts on the old versions.
We worked with analysts at Kelley Blue Book to find a few gems that this pricing drop has unearthed. If you're in the market, this could be a great time to pick-up a relatively fuel-efficient used crossover. (The prices shown here reflect the vehicles' "cash value," according to KBB. Asking prices from used car dealers will usually be higher.)
Check out the Mercedes-Benz R-class. In just the past 6 months, values have dropped by almost $10,000, or almost 31%. That reflects the trouble the R-class has had finding its niche in the American SUV market.
"There has been such a proliferation of vehicles in the Mercedes-Benz line-up that the R-class has taken a hit," said Jack Nerad, managing editor of Kelley Blue Book's KBB.com Web site.
Longer and lower than its close relative, the M-class SUV, the R-class looks a lot like a minivan with van-like spaciousness. But inside you'll find the opulence you expect in a Mercedes-Benz SUV.